Best free doctor consultation android app in India:
Lybrate
Visit- Doctors free
Doctors insta
ATD doctors
        1. Lybrate (Best Free doctor consultation android app)
Lybrate – Consult a Doctor is India's best free doctor consultation (Best Free doctor consultation android app) medical platform connecting their users to over 100,000 top Doctors and pathology labs. You can ask a free question about any health or fitness query and get multiple helpful answers from the best doctors within a few hours. You can also find doctors across all major specialties and can either consult them online instantly or book an appointment to visit the clinic at your preferred time. Consult doctors online privately in detail via text chat or audio/video call and get prescriptions if the doctor thinks it's necessary. Share medical records, lab test reports, past prescriptions. Specially their doctors have answered millions of questions and attended to hundreds of thousands of patient appointments to help with the following problems:
Skin Care, Pimples, Acne or Rashes on Skin
Erectile Dysfunction, Premature Ejaculation, Safe Sex, Birth Control, Irregular Periods
Mental Health, Stress, Anxiety, Depression
Stress, Headache, Migraine, Sinus Allergy
Pregnancy Symptoms, Breastfeeding, Childcare, Parenting, Period Trackers, My Periods
Diabetes, Hypertension, Heartburn, Fitness
Child Obesity, Thyroid Problem, Lose Weight, Baby Calendar
Back Pain, Injury, Arthritis or General Question
Cold, Cough, Swine Flu, Viral Fever, Dengue, Acidity
They have all type of doctors allopathic, homeopathy and Ayurveda.
They do not have Ayurveda and Homeopathy doctors. In this you can Chat with a Doctor, request a Visit with a consultant specialist and connect over a Video/Voice call from the comfort of your home, office or hotel room. Visit allows you to connect with verified and experienced doctors. You can book diagnostic tests with FREE home sample pickup at upto 30% discount. Upload your prescription and get medicines delivered for FREE at your door steps with upto 20% discount. Ask Free consultation on the below issues: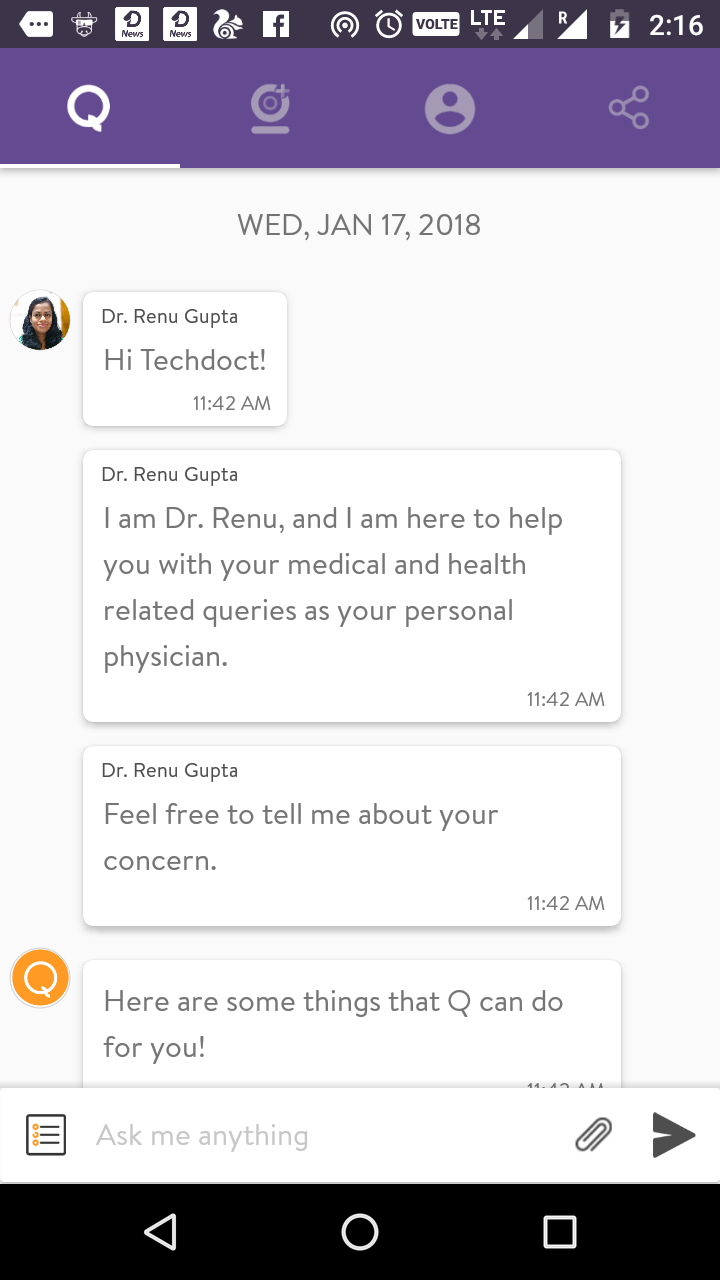 Cold, flu, cough, fever, allergies
Urinary Tract Infections
General medical questions, "Should I consult a doctor for this or not?"
Pediatric fever, advice or other issues
STDs
Vomiting / diarrhea
Rashes / bites / skin problems
Sports Injuries, Athlete's Foot
Smoking cessation
Back pain
Chest pains / Heartburn
Breastfeeding questions
Mental and emotional health issues and concern
Phone or Video Visit along with Chats & Emails allow their Best & Brightest Doctors (Sexologists, Dermatologists, Gynecologists, Pediatricians, Psychologists, Dieticians and other Specialists) to provide focused care – without your having to leave your home or office. With Video or Phone, our specialists can engage with you to diagnose your issues and provide an effective treatment plan. Your prescription will be available to you by email as well as in your account online and in your app.
ATD Online Doctor App(Best Free doctor consultation android app):
Online doctor consultation with ATD—Any Time Doctor is very easy as you get to consult doctor from the comfort of your home and get e-advice delivered inside your app digitally. By downloading the ATD free online doctor app on your Android phone or tablet, you can effortlessly consult with experienced doctors in all fields. Common problems you can get advice on ATD online doctor app are:
Acidity, Gas and Stomach Issues
Back Pain, Joint Pain Issues
Skin Issues, Rashes, Itching, Acne
Hair Issues, Itching on Scalp
Cold, Cough, Fever, Infections, Constipation, Dysentery
Depression, Sleeplessness, Anxiety
Nutrition, Diet
Women Health Issues
Conclusion:
Guys if you are dealing with a serious medical condition, please contact your local emergency services or medical professionals. Do not use apps or any other 3rd party service. Use these platforms only for solving general issue, if you feel emergency directly go to your doctor.
I recommend Lybrate is the best apps for consulting top doctors.
               To get More Useful News Click this